The European Innovation Council (EIC) pilot, Telefónica and BBVA promoted a matchmaking day for startups and scaleups working in the telecommunications and banking sectors. On 13-14 May 2019, POM was one of the 18 companies pitching and meeting Telefónica and BBVA in Madrid.
The companies in attendance were selected based on their innovative approaches to artificial intelligence, big data-based solutions, and cybersecurity, among others. From the corporate side, there were representatives Telefónica and BBVA.
POM was invited to pitch and share its vision of a world in which less time is spent on administrative tasks (especially for the self-employed). POM presented its user friendly tools to make invoice management easier, more intuitive and more integrated with key financial & accounting services.
At the event, Agustín Moro, Global Head of Partnerships at Telefónica Open Innovation, spoke on the motivation behind it: "We believe that the EIC-SME Instrument companies that our business units have selected have high chances of being able to do business with Telefónica. We have learned that the most difficult thing is not devoting resources to startups and supporting their growth – it's making them work with our business units. Through our Open Innovation initiatives, we aim to bring new business opportunities to Telefónica and to generate internal efficiencies for the company."
When questioned about the potential of companies presenting, Ainhoa Campo, Global Head of Open Innovation at BBVA, was quick to answer: "In general the quality is quite high. We involve nine different business units from our company that are eager to know more about these companies. I'm very confident that we will come up with some collaborations."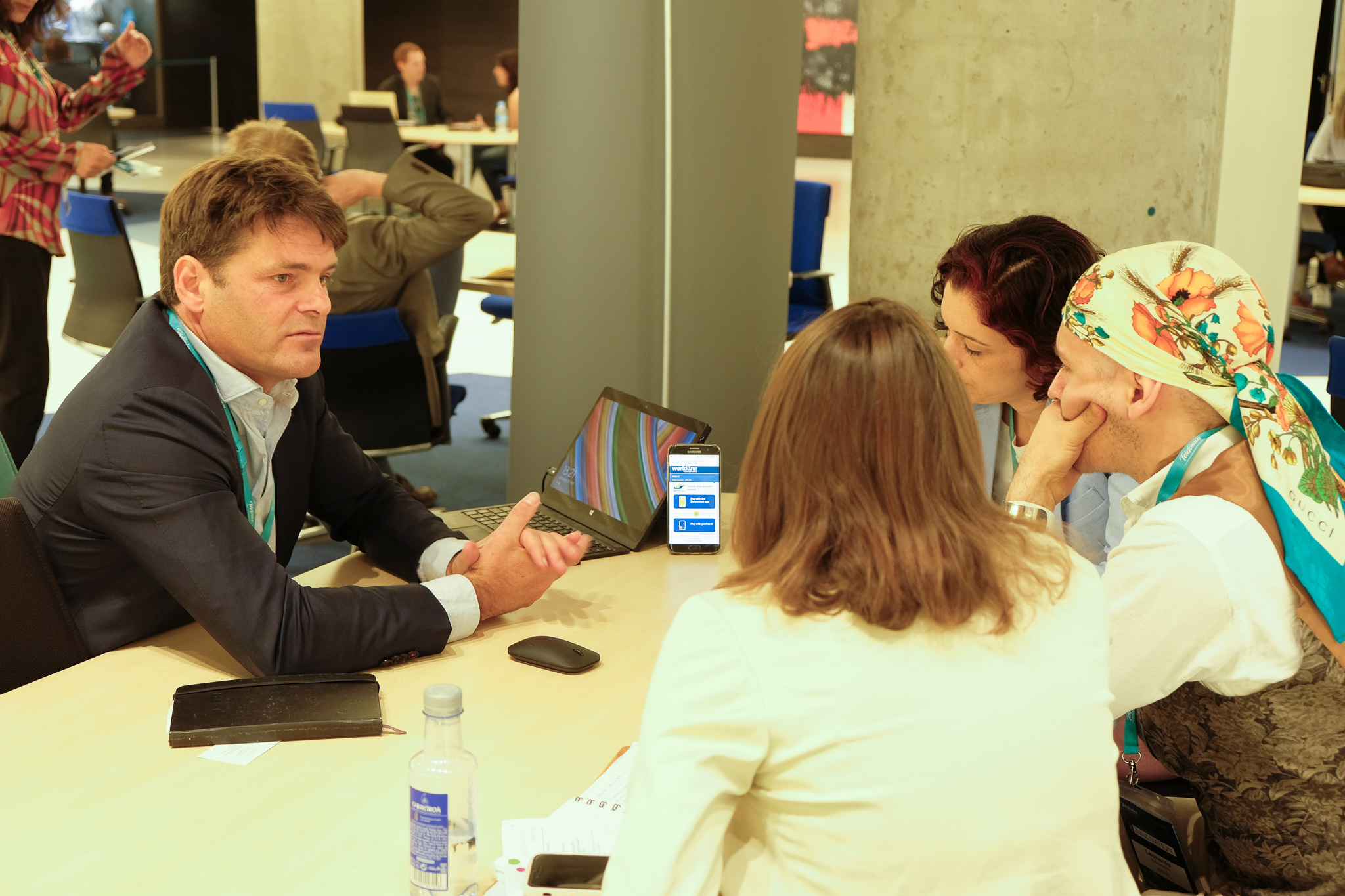 Johannes Vermeire, CEO of POM: "We're very happy to be one of the few EU funded companies who were selected to participate in this matchmaking day. We believe our solutions are aligned with the business of Telefónica and BBVA and its partners and we hope the connections we made can help us scale-up our business."
In this video Johannes talks about the mutual benefits that may arise when startups and large corporations join forces:
🎙 What are the benefits that both a big business, like #BBVA or @Telefonica, and a #startup get from working together @johannes69 from @Just_POM_it answered to us at #TelefónicaBBVAstartups #EU_eic. Listen to it! pic.twitter.com/qMKcKujo8U

— BBVA Open Innovation (@BBVAInnovation) 15 mei 2019
The purpose of the EIC Corporate Days is to promote business between big corporates - which are always looking for innovative solutions to improve their products and services – and the SMEs funded by the EIC pilot.