ANTWERP 08/12/2022 – Fintech companies POM and Mail to Pay have joined forces. They bring together their expertise in payment services and credit management and continue from now on in Belgium as one organization under the POM brand. In the new structure, POM joins the Mail to Pay Group.
In 8 years, POM has grown into an innovative leader in the digital payment sector in Belgium with more than 1300 customers in various sectors (energy companies, water companies, governments, hospitals, schools, sports clubs, etc.). POM builds digital payment solutions to simplify the processing of invoices, fines, taxes, membership fees, donations, ... for both the sender and the recipient. A user-friendly and secure payment experience is always the guiding principle. Organizations that work with POM are paid faster and have to send fewer reminders. You will find POM's QR payment codes on - among others - tax bills issued by the Flemish tax authorities, on traffic fines issued by the federal government and on Luminus energy bills.
Mail to Pay is the founder of debtor process automation in the Netherlands and automates the invoicing process of large organizations with innovative credit management software. Over the past three years, Mail to Pay in Belgium has successfully built up a nice portfolio in various sectors, such as healthcare (hospitals and medical laboratories), energy companies, residential care centers and various financial players. The focus is on total unburdening, often even from the creation of the invoice.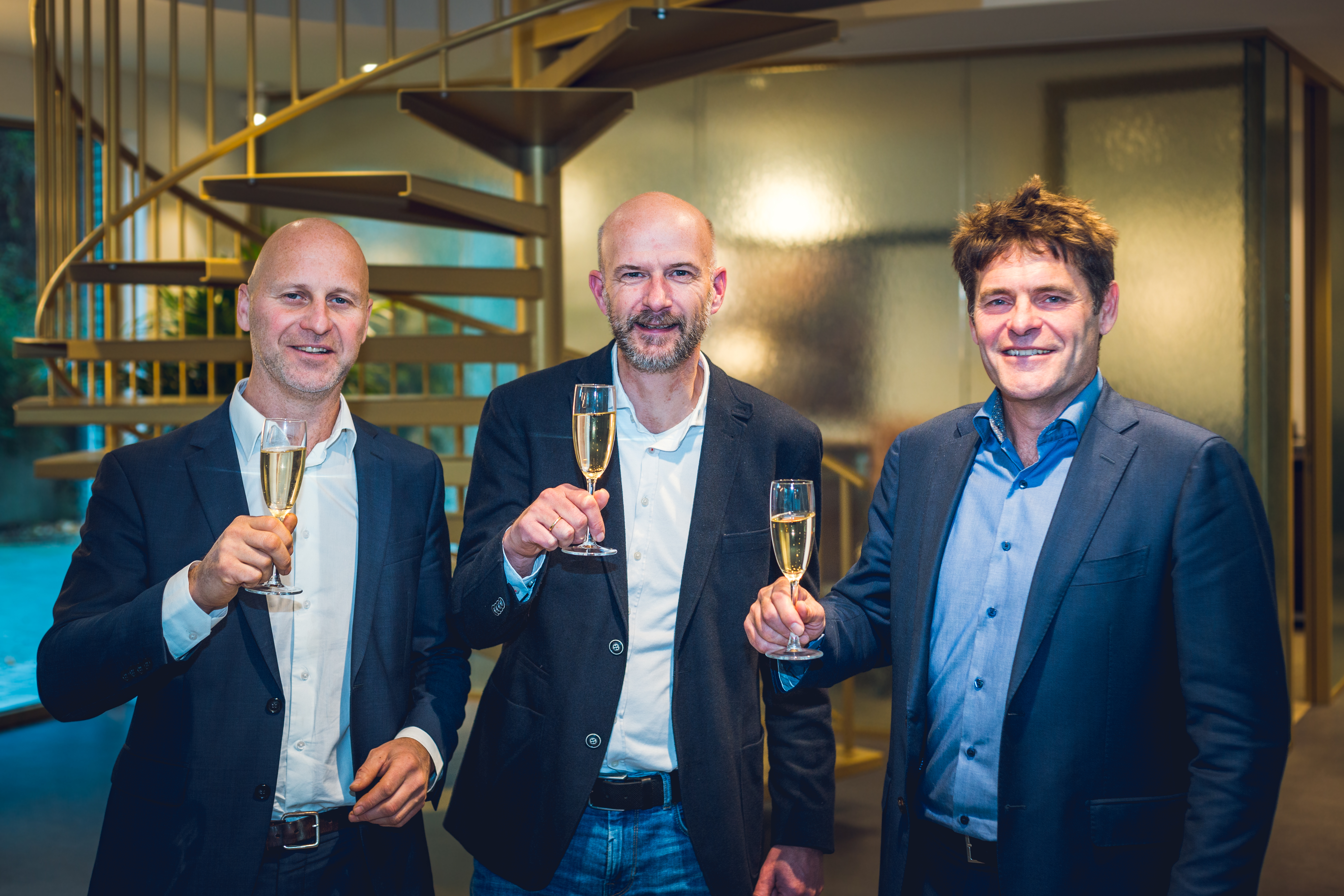 From left to right: Tom Totté, Kees Neven and Johannes Vermeire.
"By merging our activities with Mail to Pay, we are taking another step forward. We are broadening our offering with invoice follow-up solutions and can thus offer even more added value to our customers and partners," says Johannes Vermeire, co-founder and CEO of POM. "With POM and Mail to Pay, we bring two leading technology companies together under one roof," adds Kees Neven, CEO of the Mail to Pay Group. "The combination of innovative payment solutions and automated credit management creates new opportunities for organizations to receive payments more smoothly, efficiently and in a more customer-friendly way."
Stronger together: complementary offerings
Mail to Pay and POM complement each other well. Organizations that use Mail to Pay's credit management software can automate, personalize and robotize the entire debtor process: from sending the first invoice to the last reminder.
This way of working brings many advantages: lower collection costs, a higher collection rate, increased customer satisfaction and higher customer retention. In addition, Mail to Pay customers have the flexibility to continuously adjust their collection process.
By then adding POM's QR payment codes and payment links to their outgoing invoices, organizations are paid faster and correctly. Up to 40 percent of debtors pay within 24 hours of receiving a payment request from POM. The number of reminders also decreases considerably, up to 18 percent.
Making a payment via POM is extremely easy and secure. The payment platform is linked to all common means of payment, such as Bancontact, Payconiq or credit cards.
Collective focus on innovation
Both POM and Mail to Pay have focused on innovation since day one. The Mail to Pay platform uses algorithms, machine learning and hyper-personalization to automate the sending of large volumes of payment requests.
In this way, the end customer is approached at the most suitable time, via the right communication channel and with the appropriate tone of voice.
The mix of payment options offered is based on the customer profile. This offers great advantages in these times of sky-high inflation. An increasing number of people are experiencing difficulties in paying bills on time. Offering a payment plan or deferred payment can make a world of difference.
With POM's payment technology, companies can make these payment options available to their customers in an easily accessible manner. At the same time, the collection is optimized through automatic payments.
Even after joining forces, both companies continue to focus strongly on innovation. "Thanks to the merger of POM and Mail to Pay, we can also increase the speed with which we launch innovations," says Tom Totté, co-founder and CCO of POM.
"For example, behind the scenes we are working with Bancontact Payconiq Company on a solution against payment fraud via phishing and we are developing new payment solutions based on the PSD2 legislation."